Tips For A Stunning Terrace Garden In Bangalore
|
On 2023-10-13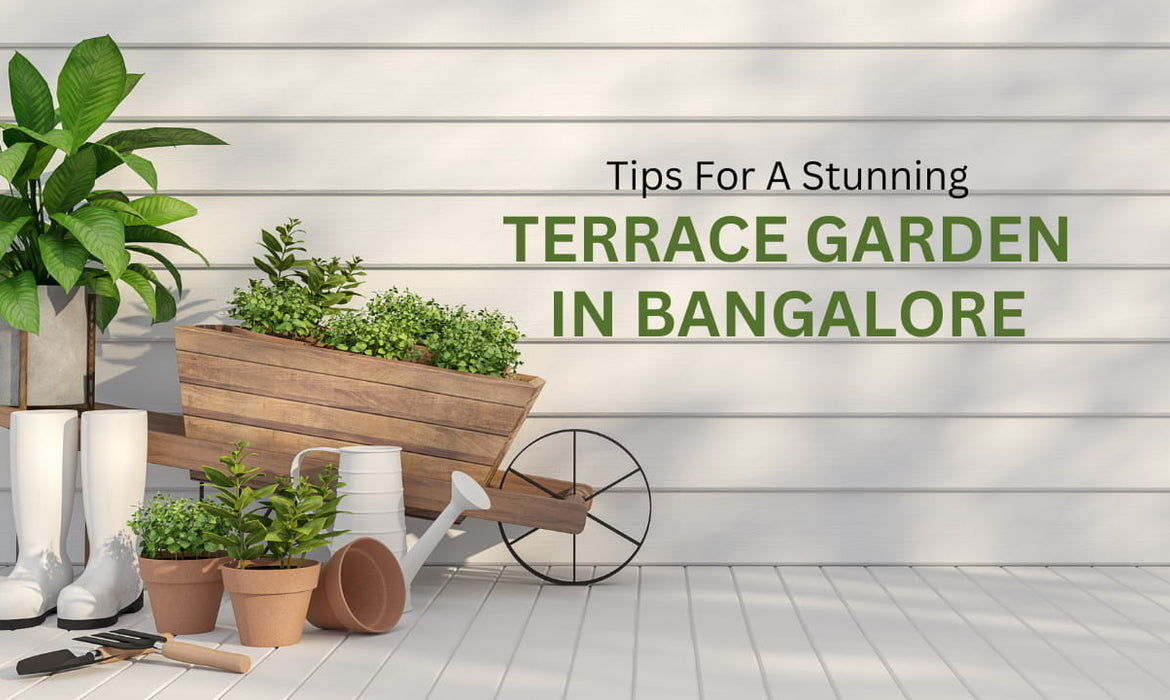 Terrace gardening is a relatively new idea in India, but it is quickly gaining popularity, particularly in large cities. One such city that struggles with significant urbanization and lack of room for nature is Bangalore, famously known as the Garden City of India. It boasts a pleasant climate that's conducive to gardening year-round. One of the best ways to embrace this green city vibe is by creating a stunning terrace garden in Bangalore. A rooftop oasis not only enhances the aesthetics of your home but also offers a serene escape from the urban bustle. 
We are constantly searching for a patch of green in our concrete jungles. It makes sense that more urban households are developing terrace gardens now than there were ten or so years ago. If you fall into this category and are a novice, you might require some beginner-friendly terrace garden setup ideas to help you create the terrace garden of your dreams.  With the help of these terrace landscape garden ideas for the home, you can create a terrace garden that is home to a variety of plants, including delicate flowers, large vegetables, luscious fruits, and green herbs. Following our basic advice can help you get started if you're an enthusiast eager to get your hands muddy with your very own terrace garden design.
Here are some tips to transform your terrace into a verdant paradise
1. Understand Your Space
Start by evaluating the available space, its orientation, and the amount of sunlight it receives. It will help you choose the right plants and plan the layout effectively. Before you begin putting your terrace garden setup plans into action, you should ask yourself some of the following questions. Do you desire a complete garden, or are you content with a few pots in a quiet corner? 
Additionally, keep in mind that some plants might not require as much sunshine as others, so make sure the arrangement you choose is compatible with your selection of plants. Prior to completing the layout, it will, therefore, influence where they are placed. 
2. Select Appropriate Plants
Opt for plants that thrive in Bangalore's climate. Consider ornamental plants like bougainvillea, hibiscus, or colorful coleus. Herbs, succulents, and vegetables also do exceptionally well in terrace gardens.
Beginner terrace garden setup include choosing plants that are very simple to care for. You can start varying your greens once you've gotten the hang of growing them. Some examples of quickly expanding plants that can grow on their own include coriander and chilies. 
Plan your plant selection similarly to your layout, and take advantage of structural components. Creeper plants can be used on existing poles or grills as one of the terrace garden ideas you can incorporate into an existing construction.

3. Invest in Quality Soil and Drainage
Use a well-draining, nutrient-rich soil mix suitable for container gardening. Adequate drainage is crucial to prevent waterlogging, which can harm the plants.
It is best to purchase a quality potting mix if you are a beginner in order to increase your confidence (and avoid killing your saplings). Your terrace garden plans ought to operate with a mixture of compost, coir peat, vermicompost, and ordinary soil. It's common for terrace garden enthusiasts to manufacture their own manure, but hold off before diving too deeply into the subject of terrace gardening classes.
4. Implement Smart Irrigation
Install a drip irrigation system or self-watering planter and pots to manage water consumption efficiently. Bangalore's dry spells necessitate smart watering practices to conserve water and keep your garden thriving.
5. Create Vertical Gardens
Maximize space by incorporating vertical gardening techniques. Utilize wall-mounted planters, trellises, or hanging planters to add greenery without occupying much floor space.
6. Add Aesthetic Elements
Enhance the appeal of your terrace landscape designs with decorative elements like garden lights, colorful planters, seating arrangements, and artistic sculptures. These additions create a cozy and inviting atmosphere.
Utilise pots and planters of all sizes, colors, and shapes to give your terrace garden ideas some color. If you have a lawn, choose bold hues that can both contrast and accentuate the various shades of green in your area. 
In your terrace garden ideas, you can also experiment with various types of planters, including wall-mounted and hanging ones. Troughs and pots made of plastic cost less. But they frequently lack quality and don't support healthy growth very well. Clay or terracotta pots create superior containers and have a nicer appearance.
7. Maintain Regularly
Dedicate time for regular maintenance, including pruning, fertilizing, and pest control. A well-maintained and prepped garden not only looks beautiful but also ensures the longevity of your plants.
8. Consider Eco-Friendly Practices
Embrace sustainability by composting kitchen waste for organic fertilizer and using eco-friendly pest control methods to maintain a healthy garden.
9. Seek Professional Guidance
If you're new to gardening, consider consulting a local gardening expert or hiring a professional landscape designer. Their expertise can guide you in making the right choices for your terrace garden.
10. Enjoy the Space
Lastly, make sure to spend time in your terrace garden, relishing the natural beauty and tranquility it offers. Whether it's a morning cup of tea or a relaxing evening with a book, your terrace garden is your private retreat.
Creating a stunning terrace garden in Bangalore is an enriching experience that brings nature closer to your urban abode. With careful planning, the right plants, and a dash of creativity, your terrace can be transformed into a breathtaking green haven. So, put on your gardening gloves and let your terrace come alive with the beauty of nature!
What Are The Disadvantages Of Terrace Gardening?
It can be expensive to construct and maintain, especially if you have a large area to work with. 

It might lead to erosion and water damage if the roof isn't waterproofed beforehand. 

This can lead to excessive water accumulation without a proper rainwater harvesting system in place. 

Maintaining a terrace garden can be a lot of work and time-consuming. 
How Can Green Carpet Help You? 
We hope you found this guide on terrace garden ideas useful! If you want a beautiful terrace landscape design for your home, look no further. We will help you to beautify your surroundings with our landscaping services, and YOU revel in the joy of a green, serene paradise. Visit Green Carpet today, or just visit our website and chat with us. 
Have any thoughts or suggestions you'd like to share with us? We're all ears! Drop us a line at sales@greencaprpet.in