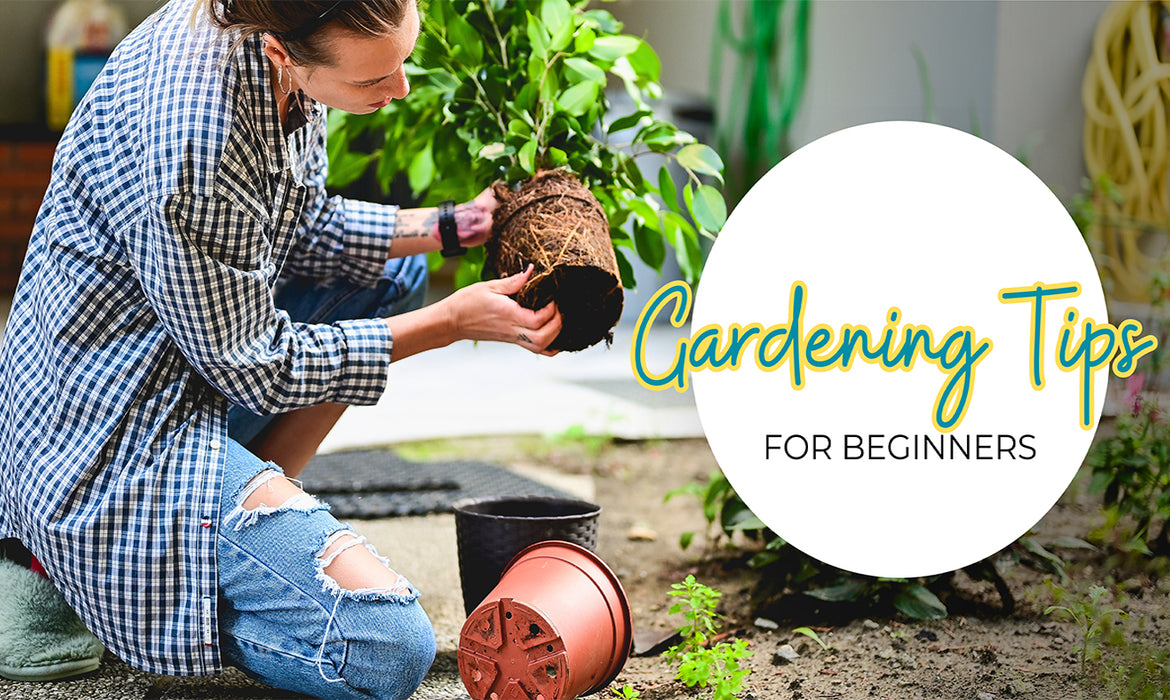 You are at the right place if you are confused about how to start gardening. A garden beautifies your home and is an excellent way to spend time after work while sipping coffee/tea in the morning. If you're a beginner to Gardening, start building your garden with our gardening tips and Beginners:
1. Pick the perfect spot
It is always better to take small-small steps toward big wins. Pick a small space in your home, such as a balcony, to start building your garden. Ensure that your chosen space receives 5-6 hours of direct sunlight. Avoid an area with strong winds. Begin with a small area or a few potted plants to avoid feeling overwhelmed. As you gain experience and confidence, you can expand your garden. Also, the chosen spot receives adequate sunlight (at least 6 hours per day for most vegetables and flowers) and has good drainage. 
2. Which plant is best for garden?
Once you identify the perfect spot for your garden, choose the type of plants you want. Do you want your garden to be a beautiful ocean full of flowers or charming herbs spread? We recommend that you opt for easy-to-grow plants suitable for your climate. Local nurseries can offer great advice on sensible plant choices for your region. You can also go for roses, jade plants, or table palms, as they are easy to care for and look beautiful. 
3. Prepare the soil for planting
Plants always benefit from soil that is rich in nutrients. Take your first step by examining the texture of your ground; it should be easily shoveled and crumble in your hands. Improving soil quality is easier than you think; it has great benefits. Add organic compost made of tea compost and vegetable peels from your kitchen to your soil to improve its quality. Good soil is crucial for healthy plants. 
4. Basic Gardening tools
Once you have a plan, you'll need some basic gardening tools such as pair of pruning scissors to cut back plants and bushes, tools for digging such as a spade, a trowel, and a garden fork for preparing your soil to plant your greens and most important watering pipe so that your plants never go out of water.You can get these tools from Green Carpet's Garden Accessories Store.
5. Watering
Be consistent with watering, but avoid overwatering, as it can lead to root rot. Water in the early morning or late afternoon to minimize evaporation.
6. Keep pests and diseases away
It's easy to make up homemade pest control for your garden, such as soap water to knock out the bugs and pests feasting on your plants. Mix some dish oil, water, and a few drops of neem oil. After it gets ready, shake it well and spray it on your plants to keep your pests away once every two weeks.
7. Enjoy Your Garden 
Remember to enjoy your garden. Make sure you sit back and enjoy the fruits of your labor. Create a seating area to sit, sip coffee, read your novels and eat with your loved ones. You can also hang a bird feeder in your garden and enjoy the chirpings of birds; Gardening is about the result and the joy of nurturing and seeing your garden grow.
Spill leftover or damaged coffee over your plants as it contains beneficial nutrients such as phosphorus, potassium, nitrogen, and magnesium. It also improves drainage and water retention in the soil; they're also said to attract earthworms. 
Deadheading is one of the most fundamental ways to achieve a healthy garden. Removing wilted flowers takes moments but helps maintain your plants' appearance and vitality.
Potassium-rich banana peels are excellent for plants like tomatoes and peppers. Bury them in the soil near your plants, where they will release nutrients as they break down. 
It might not look pretty. But covering vulnerable soft fruits with newspaper and tying them up with string will protect your produce. The harvest will then ripen perfectly without the intrusion of a hungry caterpillar and other pests. 
While some plants compete with one another, others are friends who help each other in truly amazing ways. For example, tomato makes a great companion for basil, while thyme will help you grow beautiful roses by keeping blackflies away.
How do Green Carpet Products make your garden even more beautiful?
Every gardener needs reliable tools, and Green Carpet offers a selection of premium garden tools built to last. From sturdy hand trowels and pruners to ergonomic shovels and rakes, our range of tools combines durability, functionality, and comfort. Gardening can be physically demanding, but Green Carpet's ergonomic gardening tools, such as our 2-in-1 khurma tool, can reduce strain and discomfort while tending to your plants. 
Plants deserve a happy home too. Jazz up your plants and indoor flowers with flower pots and planters with unique designs for your urban garden. Our plant pots feature textures and details with a vibrant look that makes your plants come alive. Our flower pots & planters are wonderful ways to add color and texture to your home. Get a piece of mother nature within your space with our terracotta flower pot or decorate your balconies with the ceramic pots - our planters keep your interiors green and vibrant no matter what the weather's like outside. 
Remember, every garden is unique; you'll learn much through hands-on experience. Don't be afraid to experiment and have fun with your home garden!