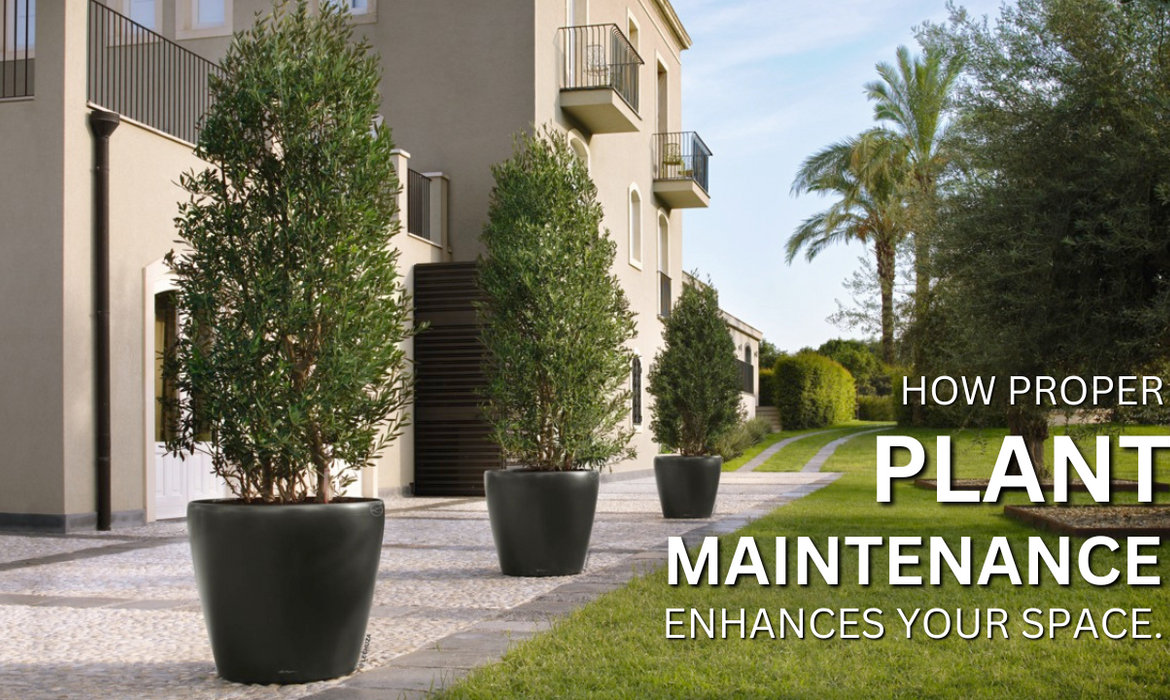 Picture this: A thriving garden or indoor oasis replete with lush greenery, vibrant blooms, and a sense of tranquility. Plants not only add beauty to our living and working spaces but also provide numerous health and environmental benefits. However, to truly elevate your space and make the most of these benefits, proper plant maintenance is key. 
How To Take Care Of Plants?
Here are 5 ways to take care of plants
1. Health and Well-being Benefits of Plants
Before we delve into maintenance, it's crucial to understand the incredible benefits plants bring to our lives. They purify the air, reduce stress, increase productivity, and even boost our mood. Indoor plants, especially, contribute to a healthier and more pleasant living environment. Proper plant maintenance amplifies these advantages, ensuring your plants flourish and continue to enhance your well-being.
2. Regular Watering: The Lifeline of Plants
One of the fundamental aspects of plant maintenance is adequate watering. Different plants have varying water requirements, and understanding these needs is crucial. Over and under-watering can both be toxic to plant health. Regular, consistent watering helps maintain the moisture levels required for optimal growth and vitality.
3. Pruning and Trimming: Shaping Beauty
Pruning and trimming are like a plant's grooming session. Regularly removing dead or overgrown branches and leaves not only enhances the plant's appearance but also stimulates new growth. This practice promotes a well-manicured look and allows plants to channel their energy into healthy, productive growth.
4. Proper Fertilization: Nourishment for Growth
Just as we need a proper and balanced diet to stay healthy, plants need proper nutrients to grow well. Fertilization provides essential minerals and nutrients that may be lacking in the soil. It is essential to take into consideration the specific nutritional needs of your plants and provide suitable fertilizers to support healthy growth.
5. Let Your Plant Choose its Pot
The near-perfect growth that you want can only be achieved if the pot & containers used are of the right size. Let the plant pick its home, forcing it to fit in a small or large place where they don't feel like it is a sin, resulting in stunted growth, drying of soil, root-bound pot, and many more. So before potting the plant, know the size and the requirements. Green Carpet's collection of pots may be what your plant has been asking for. We have pots of every type, ranging from terracotta pots, ceramic pots, resin pots, and much more in all sizes and varieties.
Here are the ways you can follow to ensure good growth of your indoor plants-
1. Give plants plenty of light
One of the primary concerns for house plants is making sure they get enough light. Keeping your plants on a side table in your living room may look good, but if it is too far from a window, your plants may not last long. Keep in mind that windows facing the south side of your house will receive the most light, while windows facing the north side will receive the least amount of light. Make a schedule of taking each plant out for a few days every 8 to 10 weeks.
2. Don't overwater
Since we see indoor plants very often, sometimes there develops a pattern of watering them frequently even when the soil doesn't require any extra moisture.
Believe it or not, overwatering is the number one cause of plants dying. Water only when the soil seems a bit dry. Also, ensure that the soil is well-drained, as most plants hate wet feet.
3. Check their placement
If you keep your plants near a glass window that is closed throughout the day, there is a chance that the glass gets excessively hot due to direct sun. It can increase the temperature near the glass, which might char the leaves or even burn out a delicate plant.
Similarly, some plants don't like a direct draft of air from the fan or the AC. If you feel the plant is in distress, try moving it from its current position within the same room or move it to a different room.
5. Add fertiliser regularly
Another way of expressing your love for your plants is to give them small, regular doses of plant food. Either home-made compost or store-bought fertilizer, just sprinkle a little bit on the topsoil to give shots of nutrition to your beautiful plants.
Proper plant maintenance isn't just a task; it's a nurturing process that brings life, color, and vitality to your space. By giving your plants the care they deserve, you not only enhance the aesthetics of your surroundings but also create an environment conducive to a healthier, happier, and more productive life. Embrace the beauty of nature within your space and let it flourish with the love and attention it deserves.