Discover Green Carpet's Finest Gardening Products
|
On 2023-06-30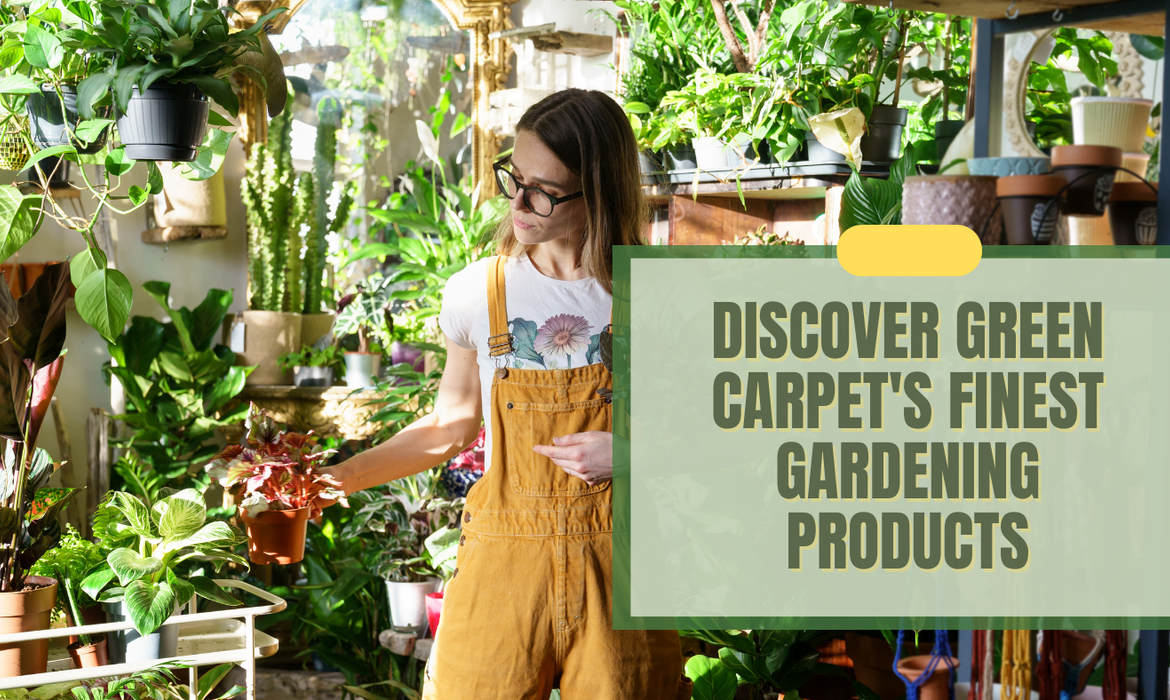 Beauty is spread everywhere but normally to see and feel it we must go to gardens. 
Are you a passionate gardener seeking top-notch gardening products to take your green oasis to the next level? Gardening is an art that allows us to connect with nature, cultivate beautiful landscapes, and create a serene environment. Whether you're an experienced gardener or a novice enthusiast, having beautiful plants, colorful pots, tools, and products can make a difference in achieving stunning results. In this blog post, we will explore the finest gardening products offered by Green Carpet, a leading brand in urban plants and urban garden supplies in Bangalore.
From Innovative Planters To Cute Succulents, Let's Discover The Top-Notch Gardening Essentials To Elevate Your Gardening Game.
Gardening Accessories
Are you looking to spice up your garden with cool gardening accessories like a terrarium bowl, turf ball, or a hanging wooden rack for your small green babies? Then look no further than Green Carpet's array of unique garden accessories. Check out our website for a range of beautiful products for your garden. 
Succulent Garden
Consider succulents if you long for indoor greenery but have not succeeded with houseplants. They are very simple houseguests and survive in every indoor condition with negligible effort. Thanks to their special adaptations – fleshy leaves, enlarged roots, and thick stems that allow the plants to hoard water and survive in dry conditions. You must be familiar with cacti, which are a type of succulent. But succulents also include other plants grown primarily for eye-catching foliage. They come in various colors and sizes and are currently the top spot for plant hoarders. 
Indoor Plants
We all want to live and breathe in the fresh air. Still, due to smaller houses in urban localities, we might not be able to have a special balcony for our gardening dreams, but here is a solution to this problem, what you can do is you can plant indoor plants in your home so that you get all those air purity you needed. Indoor green plants are very easy to grow, care and maintain. Various indoor plants like spiders, jade, snake, and more are available from Green Carpet. 
All-Purpose Potting Soil
The quality of soil greatly influences plant growth and vitality. Green Carpet's all-purpose potting soil is a blend of organic matter, nutrients, and minerals, providing an ideal environment for plants to thrive. This high-quality soil retains moisture while offering excellent drainage, promoting healthy root development, and reducing the risk of overwatering.
Eco-Friendly Fertilizers
As we need food and nutrients to survive, our plants also need basic nutrients to get embellished with beautiful flowers and live all year round. Healthy plants with the right nutrients are crucial for their health and productivity. Green Carpet offers a range of eco-friendly fertilizers formulated with organic ingredients, free from harmful chemicals. These fertilizers provide a balanced blend of essential nutrients, enhancing soil fertility and promoting vigorous plant growth without causing harm to the environment.
Gardening Tools
Every gardener needs reliable tools to work with, and Green Carpet offers a selection of premium garden tools built to last. From sturdy hand trowels and pruners to ergonomic shovels and rakes, our range of tools combines durability, functionality, and comfort. These high-quality tools will make your gardening tasks a breeze, allowing you to maintain your garden with ease and precision. Gardening can be physically demanding, but Green Carpet's ergonomic gardening tools, such as our 2-in-1 khurpa tool, can reduce strain and discomfort while tending to your plants. 
Pots And Planters
Plants deserve a happy home too. Jazz up your plants and indoor flowers a little with flower pots and planters with unique designs for your urban garden. Our plant pots feature textures and details with a vibrant look that makes your plants come alive. Our flower pots & planters are wonderful ways to add color and texture to your home. Get a piece of mother nature within your space with our terracotta flower pot or decorate your balconies with the ceramic pots - our planters keep your interiors green and vibrant no matter what the weather's like outside. 
Green Carpet's finest gardening products offer a wide range of solutions to simplify your gardening tasks and maximize the health and beauty of your plants. Invest in these exceptional gardening essentials, and enjoy the joy and satisfaction of cultivating a flourishing garden.
Gardeners online can also check our garden products on our website and place an order.