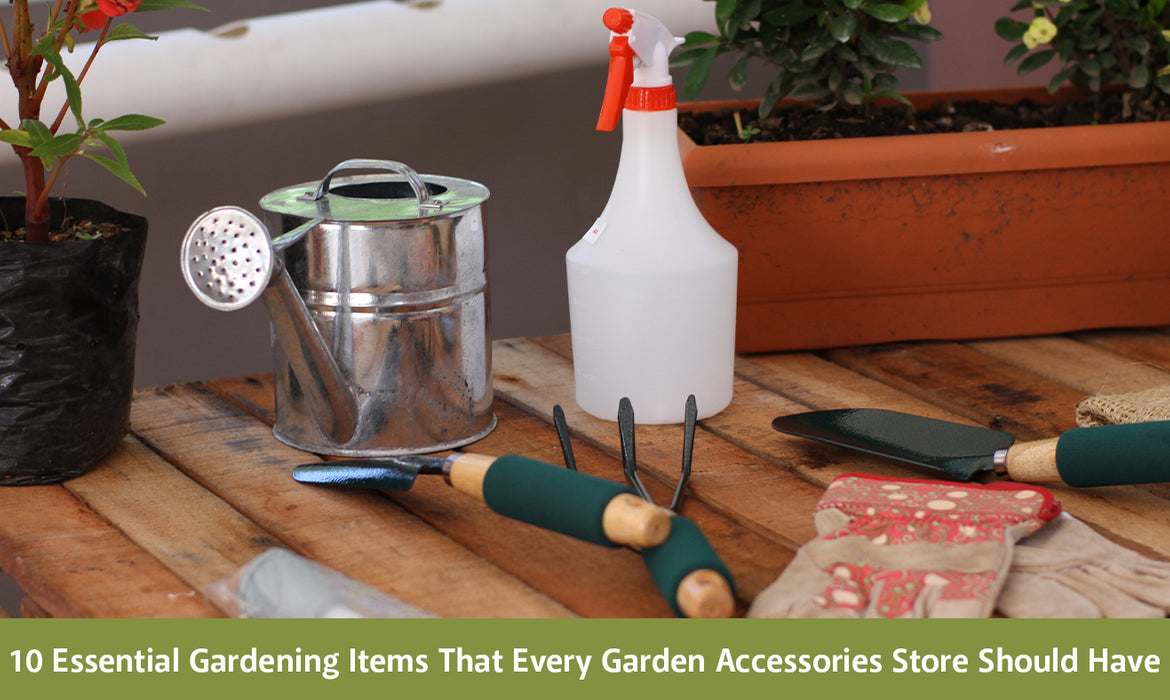 Gardening is a fulfilling hobby that brings joy and relaxation to many people. Whether you are a perfect gardener or a beginner, having the following items can make a significant difference in the success of your garden. Find amazing garden decoration items in the garden accessories store Bangalore at Green Carpet. You don't need to have a huge collection, but having the right garden items can make your outdoor space much more beautiful. Here are 10 must-have items: 
Garden Lamps

- If you are a true gardener, you should spend time in your garden, even at night and embellish your garden with beautiful lamps; we can help you. Visit our store or check out our website, for beautiful lamps that can enhance your ambience and give you a soothing feel.

 
Granulates-

A healthy replacement to the soil, granulate is an inorganic plant substrate consisting of Zeolite, washed pumice, light Lava and a fully coated premium quality fertilizer. It is free from contamination and pollutants. Zeolite is a natural odour absorber and a fungi blocker. The Lava permanently supplies the plant with iron. It is structurally stable and does not condense. The granulator maintains the ideal pH balance in your soil. It minimizes fungi and pest infestations. It maintains plants' optimal water/air ratio (45% water/55% air). The granulate can be used repeatedly. It acts as a buffer that absorbs excess fertiliser and returns it to the plant when needed, thus balancing the fertilizing errors. Granulates are suitable for all plants, including cacti, orchids and succulents.

 
Garden Apron-

When it comes to planting, a garden apron is a saviour you need when you do gardening chores. Made from 100% polyester, the apron is water resistant. Attractive with bright prints, the apron comes with handy pockets and is the ideal accessory for gardening. A garden apron is your perfect partner for digging, planting, and transferring soil.

 
Vases-

Some plants need only water to live, such as money plants, water lilies etc., and for these, you need some beautiful vases so that your garden is complete. We have a wide range of vases with different colours and materials to look at.

 
Trays and saucers-

When you love your plants, you understand how essential it is to water them. You can use saucers for plants so that they hold water and keep your garden floor free from drifted soil from plants. Green Carpet offers you trays in different sizes and colours for your pots.

 
Pebbles-

Pebbles are great friends of plants. They prevent the evaporation of water from the soil. They are the perfect way to absorb excess water from the pot and also to release water when the pot is drying out. This is a natural way to aid your plant's water consumption. The use of pebbles in the soil helps to enrich it.

 
Artificial Plants-

Artificial plants and trees are the perfect answer to all your beautiful décor dreams! They look as attractive as the natural beauties and don't need a constant eye on them either. Do you often forget to water your beloved plants? Or keep them in the sun? Or don't you have the time to talk to them? Well, artificial plants would be the best option for you.

 
Self-Watering planters-

Plants grown in a

self-watering planters

get a constant supply of moisture, giving them a healthy growth. Self-watering planters help protect plants against wind and temperature spikes outdoors which might cause them to dry out too quickly during your watering routine.

 
Resin Planters-

They offer exceptional durability for those looking for planters that can withstand harsh weather and handling, making them an excellent option for housing plants in just about any garden environment. We have attractive and unique resin planters, which are a treat to the eyes.

 
Ceramic Pots- Ceramic pots are in trend with their colourful displays. The main reason is that the soil in the ceramic pot can absorb moisture better, and thus the soil doesn't dry quickly. Ceramic pots are also the better option for your indoor plants if you tend to overwater. Get Ceramic pots in Bangalore at the best price and top quality at Green Carpet. 
Gardens have special memories attached to our life as we spend our happy or sad times there. Having the right gardening items and accessories makes a huge impact on the ambience of your garden. As a
garden accessories store
it is essential to stock up on these ten essential items to cater to the needs of gardeners. We, at Green Carpet, help customers achieve a successful and fulfilling gardening experience by providing them with quality tools and accessories.