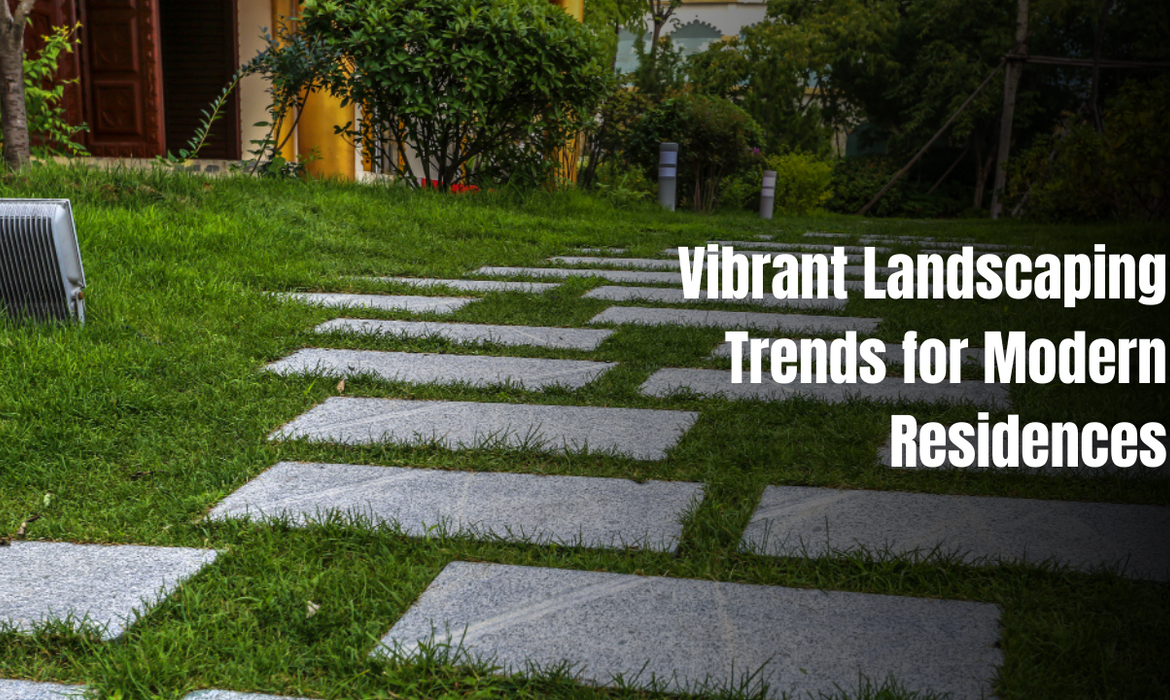 Landscaping is an art form that has evolved over the years, reflecting changes in architectural styles, environmental concerns, and our desire to connect with the outdoors. In the realm of modern residences, landscaping trends have experienced a significant shift toward creating vibrant, sustainable, and functional outdoor spaces. These trends not only enhance the aesthetics of a home but also provide practicality and harmony with the environment. 
Vibrant landscaping trends that are shaping modern residences today
1. Native Plant Gardens
One of the most prominent landscaping trends in recent years is the use of native plants. Native plants are adapted to the local climate, require less water, and support local wildlife. Incorporating these plants into your landscape not only conserves resources but also creates a vibrant, natural look that is easy to maintain. They can be arranged in creative ways to showcase their beauty while blending seamlessly with the surroundings.
2. Outdoor Living Spaces
Modern landscaping isn't just about aesthetics; it's about functionality. Outdoor living spaces have become increasingly popular, including patios, decks, fire pits, and even full outdoor kitchens. These spaces extend the usable square footage of your home and provide a connection to nature, making them perfect for relaxing, entertaining, and enjoying the outdoors.
3. Sustainable Landscaping
Sustainability is a key focus in modern landscaping. It includes the use of permeable paving materials to reduce runoff, rain gardens to manage stormwater, and xeriscaping for water efficiency. Many homeowners are also opting for renewable energy solutions like solar-powered lighting to minimize their environmental impact.
Incorporating environmentally friendly features into their designs, including indigenous plants that thrive in regional weather conditions and need minimal irrigation. It also includes the use of organic fertilizers to maintain a lush and lively landscape, all while minimizing their ecological footprint.
4. Vertical Gardens
For homes with limited space, vertical gardens have become a popular choice. These gardens feature plants that grow vertically, whether on walls, trellises, or in specially designed containers. Vertical gardens are not only space-efficient but also add a unique and vibrant dimension to your outdoor area.
5. Low-Maintenance Landscaping
With busy modern lifestyles, low-maintenance landscaping is on the rise. This trend focuses on selecting plants and materials that require minimal care. Drought-tolerant plants, synthetic turf, and automated irrigation systems are some of the elements that can reduce the time and effort needed to maintain a beautiful landscape.
6. Ornamental Grasses
Ornamental grasses have gained popularity for their textural diversity, movement in the wind, and year-round visual appeal. They can be used to add drama, elegance, or a natural feel to your landscape. Their adaptability to various soil types and weather conditions makes them a versatile choice.
7. Smart Landscaping
The advent of technology has also made its way into landscaping. Smart landscaping involves the use of automation and remote control systems to manage irrigation, lighting, and even robotic lawnmowers. It not only saves time but also optimizes resource usage, contributing to a more sustainable landscape.
8. Outdoor Lighting
Strategic outdoor lighting can transform your landscape into a magical place after the sun goes down. LED lighting, solar-powered fixtures, and creative lighting designs can highlight key elements, increase safety, and extend the functionality of your outdoor spaces.
In the world of modern residences, landscaping trends are evolving to reflect our changing needs and concerns. Vibrant landscaping goes beyond aesthetics; it incorporates sustainability, functionality, and a strong connection to the natural world. Whether you're looking to create a low-maintenance garden, an outdoor oasis for entertainment, or a sustainable landscape, there are numerous options to choose from. Embracing these landscaping trends can help you transform your outdoor space into a vibrant and harmonious extension of your modern home.

Green Carpet gardening and landscaping services in bangalore redefine how you perceive and utilize your outdoor space. We weave dreams into reality through creative designs, sustainable practices, and a passion for nature. Elevate your space with us, and watch your surroundings transform into an evergreen masterpiece. We also provide landscaping maintenance services to maintain your garden's longevity and beauty.