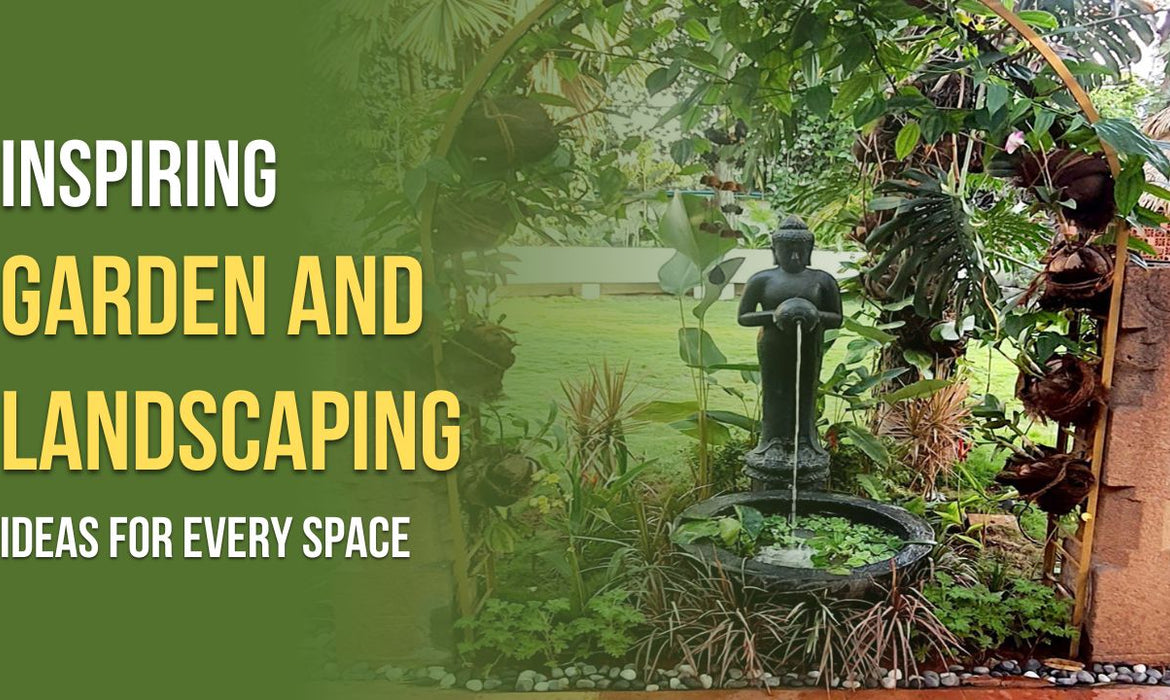 A well-designed garden or outdoor space can be a haven of tranquillity, a canvas for self-expression, and a sanctuary for relaxation. Whether you have a sprawling backyard, a small balcony, a corporate courtyard or a transverse terrace, there are endless possibilities to create a beautiful and inspiring landscape that suits your style and needs. Let's look at various garden and landscaping services & ideas to spark your creativity and help you transform any space into a captivating oasis.
1. From Blank Canvas to Green Oasis: Personalized Garden Designs
Every space has untapped potential. Whether it's a cosy balcony, a sprawling backyard, or a corporate courtyard, we tailor our garden designs to maximize the beauty of your space. With a keen eye for detail, we select the right plants, hardscape elements, and structures that seamlessly merge with your vision for garden and landscaping.
2. Balancing Aesthetics and Functionality: Landscape Architecture Redefined
Creating stunning landscapes goes beyond aesthetics; it's about finding harmony between form and function. We ensure that your garden not only dazzles the eyes but also serves your practical needs. From winding pathways that invite exploration to seating areas that beckon relaxation, we craft spaces that enrich your daily life.
3. Small Spaces, Big Impact: Balcony and Rooftop Transformations
Limited space is no longer an excuse for missing out on nature's wonders. We specialize in turning balconies and rooftops into green paradises. Vertical gardens, hanging planters, and clever use of multi-tiered containers bring a splash of greenery to even the smallest areas, enhancing the ambience and mood.
4. Beyond Green: Adding Depth with Water Features
Water has a mesmerizing effect that can elevate any garden to the next level. Integration of water features, such as tranquil fountains or serene ponds. The sound of trickling water and the reflections dancing on the surface create a soothing atmosphere that calms the mind and senses.
5. Sustainable Serenity: Native Plants and Eco-Friendly Practices
Embracing nature also means nurturing it. Eco-friendly landscaping practices, including using native plants that thrive in the local environment. These choices enhance biodiversity and require less maintenance and water, contributing to a sustainable and vibrant garden.
6. Lighting the Night: Enchanting Illumination
A garden's magic shouldn't fade with the setting sun. Our strategic lighting designs transform your outdoor space into an enchanting wonderland after dark. Subtle uplights on trees, pathway lighting, and warm patio glow create a mesmerising ambience, perfect for evening gatherings and quiet moments.
These inspiring garden and landscaping services demonstrate a perfect design for every space. No matter the size or shape of your space, the possibilities for creating a captivating garden are endless. With a dash of creativity and a touch of nature's beauty, your garden can become a source of inspiration, relaxation, and joy for years.
Green Carpet gardening and landscaping services redefine how you perceive and utilise your outdoor space. We weave dreams into reality through creative designs, sustainable practices, and a passion for nature. Elevate your space with us, and watch your surroundings transform into an evergreen masterpiece. We also provide landscaping maintenance services
to maintain your garden's longevity and beauty.