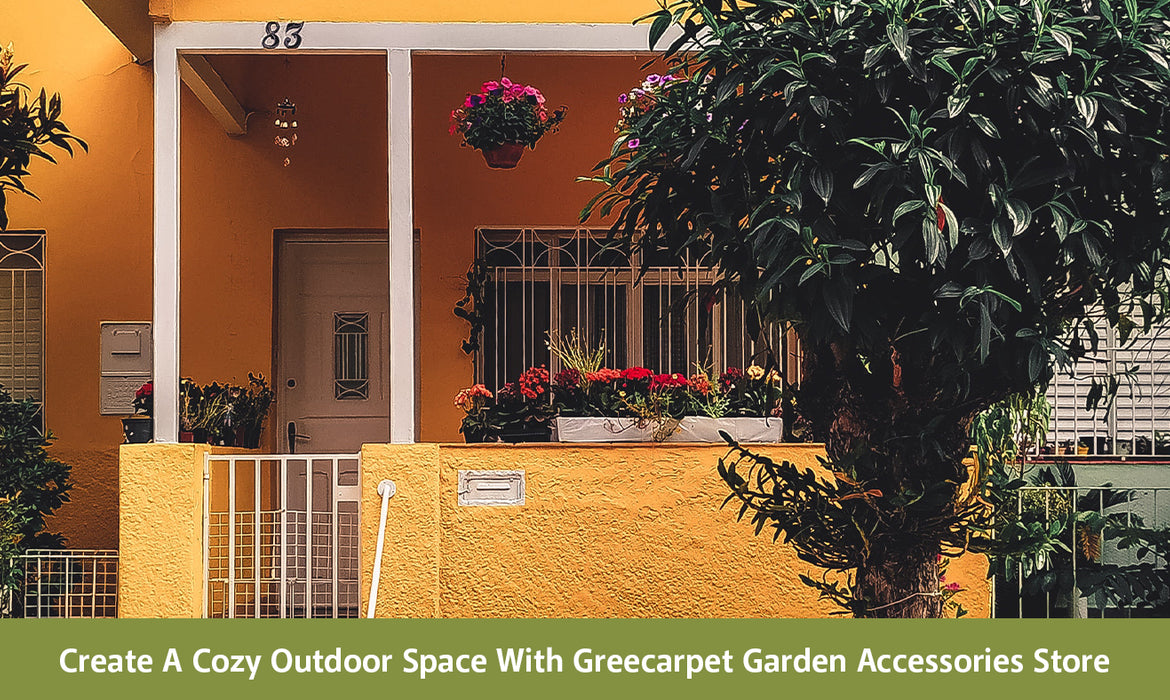 Creating a cozy outdoor space can transform your backyard into a relaxing and enjoyable oasis. Use the right garden accessories from Green Carpet, best garden decorative items stores in Bangalore, to make your outdoor space more enriching and comfortable. We have everything you need to create outdoor space you can enjoy all year round. Creating a cozy outdoor space year-round is all about designing for enjoyment. We want to enjoy what we see. That could be with a well-kept yard, beautiful flower garden, or polished home exterior. 
There's something so beautiful and special about reading a book under a canopy of stars and trees, catching up with friends and family on a sun-soaked patch of grass, or enjoying a meal beneath the stars. All it takes are a few creative additions to make your garden more livable and beautiful.
Get some colorful pots and planters
Planters and pots can bring some greenery and life to your outdoor space. You can plant herbs, flowers, or even vegetables in your pots and planters to add color and freshness to your backyard.
A gorgeous garden is only complete with some color, and now's a great time of year to start planning it. For easy garden ideas in grassless gardens, plant a range of colorful pots with summer-flowering bulbs – or buy some seeds and sprinkle them over pots – and dot them around the space. At Green Carpet, you can choose from ceramic, resin, wooden, terracotta, and many more options for your space. 
Comfortable Seating
It is essential to create a cozy outdoor space. Look for outdoor furniture that is both durable and comfortable, such as Adirondack chairs, patio sets, or hanging chairs. Add outdoor cushions and throws to make your seating area cozy. Use ceramic planters from Green carpet to finish the spot for a greener and rich look.
Decorative Lamps
Decorative lighting can create a warm and inviting atmosphere in your outdoor space. Lamps are great options for adding some ambient lighting to your backyard. It gives us a soothing feeling in the dark to sit quietly sometimes, reading a book.
Create a quiet corner
Build the focus of your garden on creating a feeling of calmness, serenity, and wellness. Position a garden bench or furniture in a secluded corner to allow quiet contemplation, surrounded by a thriving oasis of plants with beautiful white ceramic pots or colourful outdoor ceramic pots from Green Carpet. 
Invest in some 'faux-liage' or artificial plants
Real plants are great but can also be high-maintenance and dependent on the weather. Instead, try a few items of faux foliage – artificial plants, shrubs, and long grass. They are more realistic than ever and a good way to add colors to your window boxes or front garden ideas all year round.
Imagine a pair of faux boxwood balls on both sides of a doorway, a blooming pink bougainvillea on your patio, or some luxuriant hanging baskets that never need watering, and you'll see what we mean.
Create a Living Wall
Brighten the side of your garden or brickwork by hanging planters and filling them with herbs such as mint or trailing plants to create a living wall on a budget. Another benefit of this easy garden idea is that you can easily switch these herbs up with the seasons, so there's always some good- greenery.
Utilize the old step ladder
Create a vertical planting area by making use of an old stepladder. Pile high against a fence using terracotta pots from Green Carpet and other decorative items. Keep the wood uncolored for a country garden look, or paint in a bright shade to make a stylish statement.
Plant 'indestructible' succulents
Instead of constantly battling with plants, you can't seem to keep alive, consider investing in succulents that can cope without daily water and are not easily destructible. Team up the succulents with our resin planters for a quirky look.
Creating a cozy outdoor space with garden accessories from Green Carpet can transform your backyard into a relaxing and enjoyable oasis. We are one of the
best garden decorative items stores in Bangalore
. You can create a welcoming, comfortable, and soothing space that you can cherish all year round. So, visit Green Carpet today and start creating your perfect outdoor space.