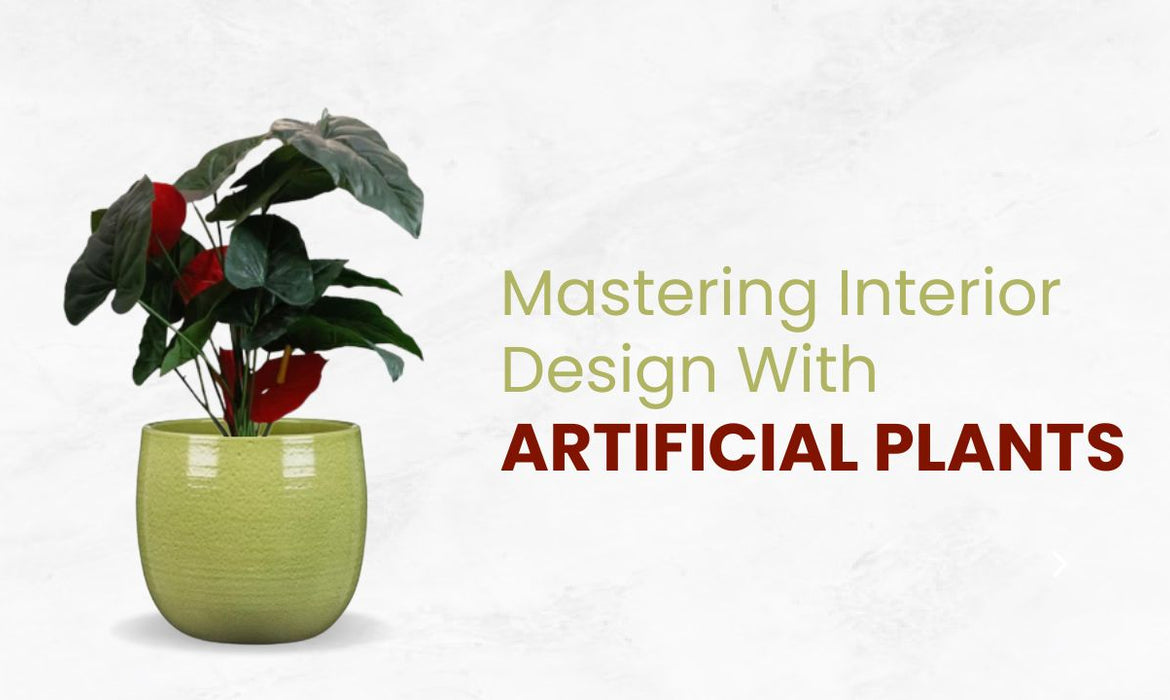 Plants add a lavish and lively touch to any interior setting. Whether you place flowers in a vase or deck your corner with potted greens, they will level up your decor game magnificently. However, more often than not, houseplants can become high maintenance, and not everyone is born with a green thumb. If you wish to add some aesthetics of plants to your space but fear you might kill them, opt for artificial plants that you might be looking for- Zero Maintenance. And when it comes to artificial plants, you can choose from various artificial plants for decoration.
Artificial plants for home decor have become increasingly popular due to their low maintenance and everlasting beauty. These lifelike botanical creations can add a touch of greenery to any space, creating a serene and refreshing ambience. If you're considering using artificial plants to enhance your home decoration, we've compiled a list of tips and tricks to help you make the most of these stunning botanical alternatives.
How Can You Use Artificial Plants For Interior Design?
1. Create A Plant Corner
Every house has one windowless, sunless corner that screams for decor ideas. You can always rely on artificial plant decor ideas and enjoy the physical effect of greenery. Get the look for less by placing them next to sofas or side tables. You can also create bathroom jungle vibes by placing artificial plants on shelves and closed window sills to make the space lively. You can also use the artificial plants in your office space to feel at home.
2. Hang Artificial flowers
Hanging your artificial plants will work best for you for more than one:
They will eliminate the unnecessary crowd from the low surfaces.
They will act as the best ornamentations and bring unmatched elegance.
They will work well for smaller rooms and living spaces.
Decorating the living room with artificial plants in hanging pots will be relatively easier than real greens as they will not require regular watering, and you will be saved from the hassle of hopping up daily to maintain them.
3. Club Them with Floral Wall Art
Prettify your space with artificial plant decor in the living room. Add floral colours & patterns to the wall and create a plant shelf near it. It will add the much-needed dollop of greenery interestingly. You can also opt for a colourful floral backdrop as the layout to pair with green artificial plants for the living room. You can opt for orchids, lilies, roses, etc., as artificial plants for wall decor.
4. Use Geometric Pots
Artificial plants are all about upgrading the look of the living space. Please choose the best artificial plants like lilies, spider plants, Roses and more appealing artificial plants from our website and place them in designer pots for a perfect accent. They can work well on a desk or a dining table centrepiece, even if you wish to go for simple faux plants or geometric designer pots. Geometric patterns are the latest trend and work best for homes with contemporary, modern or Scandinavian decor. Opt for geometric pots for house decor plants for the living room to make them the focal point.
5. Mix Artificial Plants With Live Plants
It is one of the most affordable and splendid home decor ideas, with artificial plants to decorate your living space. You can mix artificial plants with living ones to add good vibes to nature at a low cost and take advantage of both types. Choose live plants that shed the least leaves and mix them with artificial plants with flowers. It will work best for your living space as you can always keep the space fresh and seasonal by switching artificial plants with new ones; say, you can choose artificial tropical plants in summer and evergreens in winter to keep your artificial plant decor at its peak.
Artificial plants have evolved from mere decorations to essential elements in modern interior design. Their lifelike realism, versatility, and low-maintenance benefits offer endless opportunities to elevate your living spaces. Whether you're looking to infuse your home with greenery, create a focal point, or enhance specific areas, artificial plants provide an innovative way to master interior design with style and ease. So go ahead, bring the beauty of nature indoors and let your imagination flourish in a world of artificial botanical wonders.