A Nature's Gift to Celebrate World Environment Day with Green Carpet
|
On 2023-06-06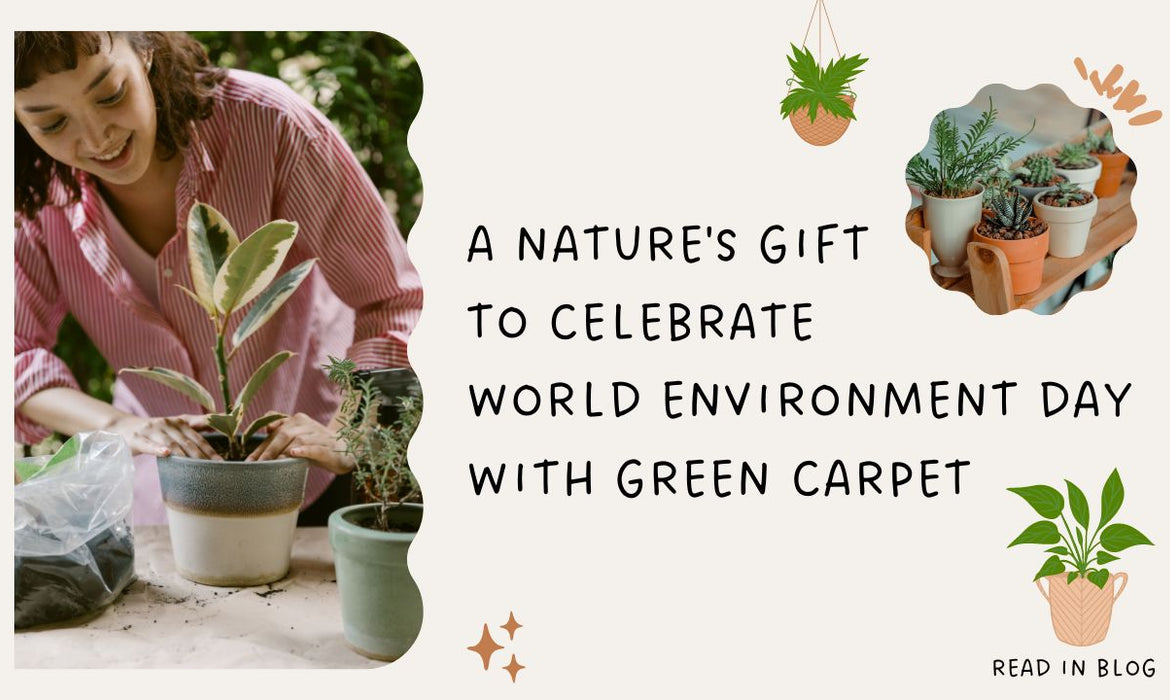 Let's Unite to Save the Environment!
World Environment Day is an important occasion that reminds us of the beauty and significance of our beautiful Mama Earth. As we celebrate this day, it is crucial to spotlight our relationship with the environment and find ways to honor and protect it. One impactful way to celebrate World Environment Day is by embracing the natural surroundings we have or create in our lives. Green Carpet-The Garden Accessories Store represents the gift to nature and acts as a reminder to be conscious of our actions and make sustainable choices. Let's explore how we can celebrate World Environment Day.
1. Planting
Planting a plant is one of the most effective ways to celebrate World Environment Day and contribute to a greener future. Plants play a crucial role in absorbing carbon dioxide, improving air quality, conserving water, and providing habitat for diverse species. Gather friends, family, or colleagues, and organize a planting event in your community. Each plant planted is a step towards creating a lush and sustainable environment. You can shop for various pots and garden products from Green Carpet suitable for your garden. The Garden Store is a treasure trove of pots, offering diverse greenery to suit every space and preference. The store provides various options, from outdoor planters to indoor planters. Bringing these planters into our homes enhances the aesthetic appeal and helps create a healthier living environment.
2. Community Engagement
Green Carpet The Garden Centre fosters community by organizing events and activities that unite like-minded individuals. It provides a platform for gardeners to connect, exchange ideas, and share their experiences. These interactions foster a sense of camaraderie and collective action, inspiring individuals to be more mindful of their environmental impact.
3. Green Gifting
In addition to nurturing our green spaces, The Garden Store offers a variety of planters and gardening supplies that make for thoughtful and eco-friendly gifts. Whether it's a wooden pot or terracotta planters for a loved one, these green gifts spread the message of environmental consciousness and encourage others to embrace nature. Sustainable. In line with the ethos of World Environment Day, The Garden Store emphasizes sustainable gardening practices. It offers a range of pots that are eco-friendly and sustainable. Using these, we can cultivate environmentally conscious gardens, minimizing ecosystem harm and promoting a greener future.
4. Connecting with Nature
Spend time in nature on World Environment Day to truly appreciate its gifts. Plan a hike in a nearby forest, visit a local park, or take a walk in your neighborhood, paying attention to the natural beauty around you. Take this opportunity to learn about local flora and fauna, listen to the birdsong, and immerse yourself in the serenity of the environment. Connecting with nature nurtures our well-being and deepens our understanding of the importance of preserving it.
5. Supporting Environmental Initiatives
Contribute to the efforts of environmental organizations and initiatives that work towards preserving and restoring the natural world. Donate to environmental causes, volunteer for clean-up drives and conservation projects, or participate in educational programs that raise awareness about environmental issues. By supporting these initiatives, you become an active agent of change and contribute to the collective effort of safeguarding the environment.
World Environment Day presents an opportunity to reflect on our role as Earth custodians and celebrate nature's beauty and abundance. Let us celebrate this World Environment Day with a renewed commitment to protect our planet, recognizing that every action we take can create a greener, more sustainable future. Together, let's walk the earth and positively impact the environment for future generations.
World Environment Day reminds us of the intrinsic value of nature and the urgent need to protect it. With its abundance of planters, and sustainable supplies, the Green Carpet Garden Store provides a nature-inspired gift to celebrate this important day. By creating our green place and embracing gardening, we contribute to a greener world and inspire others to do the same. So, let's visit The Garden Store, explore its garden accessories, and embark on a journey of nurturing our environment, one plant at a time. Together, we can make World Environment Day a celebration of nature, sustainability, and a commitment to a better future. Use Code FIRST10 and earn a 10℅ discount.