At Green Carpet, we recognize that privacy is very important. We promise to respect your contact preferences and protect your private information. This Privacy Policy describes the information that is collected, how it is used and with whom it might be shared. This Privacy Policy is applicable to all the services and products offered by www.greencarpet.in.
Please read carefully the Privacy Policy and the Terms of Use before you use our website, our tools or our services and before conducting any type of transaction with us. By using any of our services, you accept the practices explained in this Privacy Policy and you agree to be bound by the Terms of Use.
Data Collection
We do not store your credit card details or other sensitive data on our servers. Green Carpet uses the services of the most secure payment gateway to provide safe and secure payment procedures. Your credit card information is never transmitted via our website since the payment gateway is responsible for collecting, storing and encrypting your data. All the information that is collected is used for products and services provision, billing, identification and authentication, services improvement, contact and research.
Green Carpet does not share your email address or other personally identifying information with any third parties, except our service providers, such as credit-card payment processors, performing services on our behalf. These service providers may have access to personal information needed to perform their functions but are not permitted to share or use such information for any other purposes.
Cookies & Tracking Information
When your browser visits our website, a cookie is created on your computer. A cookie is a compact data, which includes an anonymous specific identifier which is sent to the browser from a web site's computers and stored on your computer's hard drive. The cookies are required in order to become a member of our service since they facilitate the access to our website and improve the user experience.
We use cookies to record current session information, encrypted users' login information, provide services, and compile analytics about our users. In addition we may collect information about your browser type, your default language, the date-time of your visit and similar information which helps us track users' movements around our website and understand the trends.
At Green Carpet we do our best to protect the personal information from unauthorized access, alteration or disclosure.
Data Protection and Security
We do not sell your personal details to anyone for any purpose. We maintain information about you in our business records while you are a customer, or until it is no longer needed for business, tax or legal purposes. We have implemented encryption or other appropriate security controls to protect Personal Information when stored by Green Carpet. Both Green Carpet and our third party hosting vendors do the best to protect the personal information from unauthorized access, alteration or disclosure.
Information Sharing and Disclosure
Any personal information or content that you voluntarily disclose online (in reviews and discussion areas, profile page etc.) becomes publicly available that can be collected and used by other people. Your account name but not your email address is displayed in public when you send comments or messages through our Blog/Forums and other users can connect to you through messages and comments.
Creation of account and order placements deems use of your email address without further consent for non-marketing or administrative purposes (such as updating you of major website changes, updates on Terms and Conditions or Privacy Policy, alerting you to messages from other members or for customer service purposes). We use your contact information to send you offers based on your previous orders and your interests.
We use both your personally identifiable and certain non-personally-identifiable details(such as anonymous user usage data, cookies, IP addresses etc.) to improve the quality and design of the website and to formulate new features, functionality and services by storing, keeping track and analyzing user preferences and trends.When you post a comment or message, your Green Carpet ID or username that you are posting under is visible to other users. If you post personal details online that are accessible to the public, you may receive unsought messages from other parties in return. Green Carpet does not rent or sell your personal information.
Green Carpet will not share personal information about you with other people or other companies without your consent except to provide products or services you've requested and in the following circumstances: Green Carpet may be required to disclose personally identifiable information under special circumstances, such as to comply with subpoenas, warrants, court orders or legal procedure or to set up our legal rights or defend against legal claims. It may be required to share details in order to investigate or take action regarding suspected or actual illegal activities, including without limitation, instances involving potential threats to the physical security of any person, violations of Terms of Use or as otherwise permitted or required by law. Green Carpet may share demographic information with business partners, such as "60% of users who regularly use Green Carpet are between 20 and 50″ or similar. No personally identifiable information will ever be used without your permission.
We may release personally identifiable information and/or non-personally-identifiable details if necessary to do so in accordance with law or in the good-faith that such action is required to comply with laws or acknowledge a court order, subpoena, or search warrant.
Green Carpet reserves the right to use the business name, logo and comments of its Registrants, Members and Customers in marketing documents, in Green Carpet website and in other marketing and promotional activities. At any time, the Registrants, Members and Customers of the Service can send a written notice to withdraw this authorization.
Green Carpet also reserves the right to disclose personally identifiable information and/or non-personally-identifiable information that Green Carpet believes, in good faith, is appropriate or necessary to enforce our Member Agreement, take precautions against liability, to investigate and protect itself against any third-party allegations, to aid government enforcement agencies, to protect the security and integrity of our web site and to protect the rights, property or personal safety of Green Carpet, our users or others.
Log Data
All graphics, designs, interfaces, photographs, logos, trademarks, sounds, computer code, music, artwork, visual interfaces, contents are all owned and controlled by us; licensed, copyright, trademark laws, and various other property and competition laws included. In this context, no content must be uploaded, copied, reproduced, posted, displayed, encoded, transmitted or distributed in any way
Service Providers
We may engage third-party companies and individuals because of the following grounds:
To assist our Service;

To offer the Services on our behalf;

To undertake Service-related services;

To help us in analyzing the uses of our services.
We want to notify users of this Service that the third parties have access to your Personal details to enable them to undertake the tasks allocated to them on our behalf. But, they are mandated not to reveal or use the information for any other purpose otherwise mentioned.
Security and Safety
We put immense value on your trust in offering us your Personal details, therefore we are determined to use commercially accepted means to keep it secure. However be sure that no method of transmission over the internet, or of electronic storage is cent percent secure and reliable, and thus we cannot guarantee its perfect safety.
Links to Other Websites
This Service may include links to other sites. If you click on a third-party link, it will direct you to the respective site. One point to note is that these third-party sites are not handled by us. Thus, we firmly advise you to read the Privacy Policy of these third-party websites. We have no control over and take no liability for the content, privacy policies, or practices of external sites.
Policy for Children's Privacy
These Services do not serve anyone under the age of 13. We do not intentionally collect personally identifiable details from children under the age of 13. In the case we find that a child under 13 has offered personal details, we readily eliminate it from the servers. If you are a parent or a guardian and you know that your child has offered personal details, please contact us so that we can take required action.
Changes to the Privacy Policy
We may upgrade our Privacy Policy from time to time. Therefore, you are advised to read this page regularly for the changes. We will update you of the changes by displaying the new Privacy Policy on respective page. These changes go into effect immediately as soon as they are posted here.
Contact Us 
If you have any query or recommendations regarding our Privacy Policy, kindly contact us.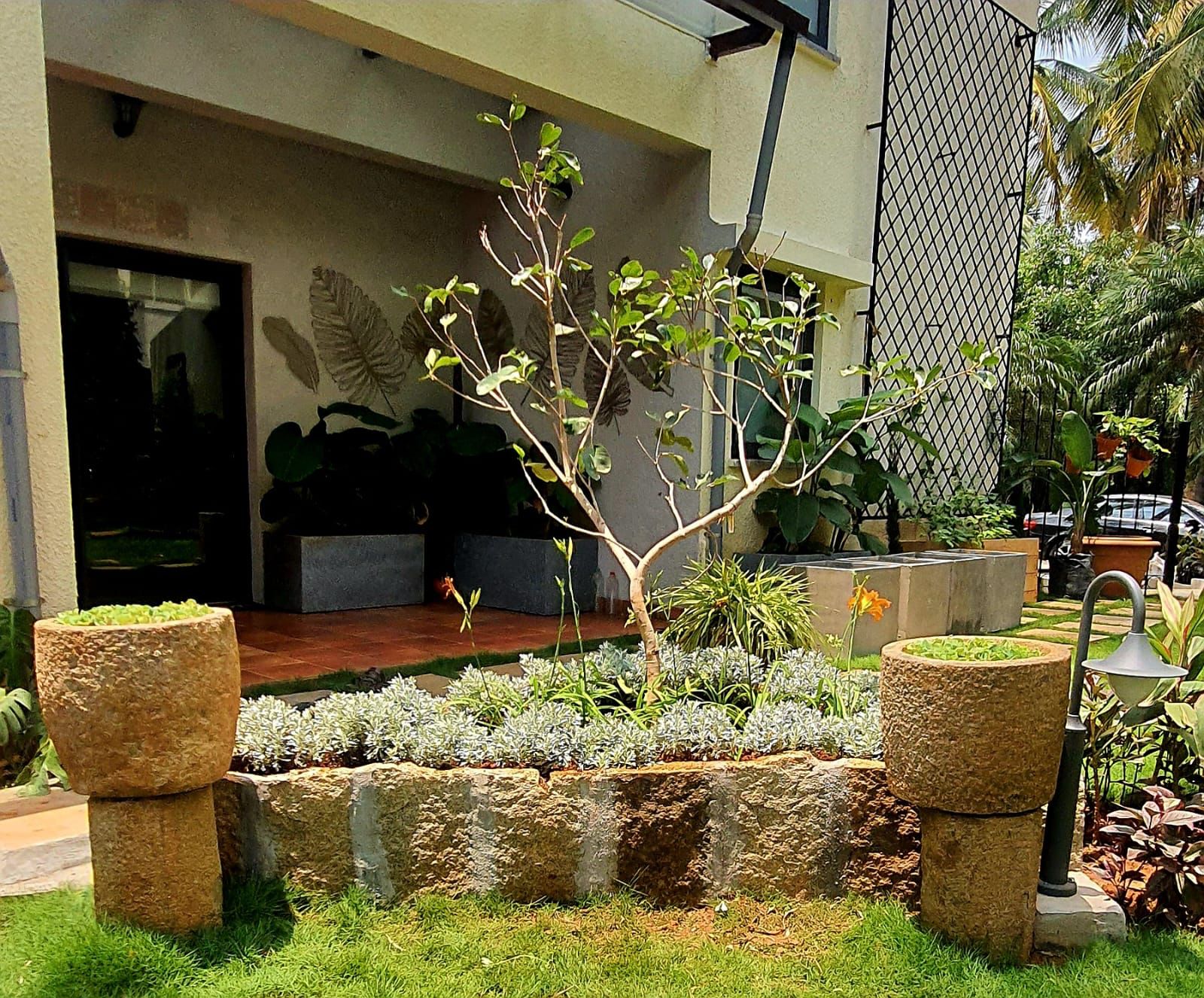 Landscaping Services
from Green Carpet
We provide ongoing maintenance services to ensure longevity and beauty of your outdoor space for landscaping services bangalore. Seasonal pruning, fertilization, weed control and irrigation management are incorporated into our services.
Connect Now
Green Carpet
We bring to you unmatched wealth of experience in the realm of landscaping services spanning two decades. By choosing us, you can elevate your garden space by:
Creating Stunning Visuals
We envision and execute designs that reflect the client's preferences while complementing the surroundings. Our expertise in color theory, plant selection and spatial arrangement results in breathtaking landscapes.
Enhancing Property Value
A well-designed landscape provides a significant return on investment by boosting curb appeal and making a positive first impression on potential buyers and visitors.
Optimizing Functional Space
Alongside aesthetics, we focus on creating functional spaces to suit specific needs. Whether it is designing a serene garden retreat, a lively outdoor entertaining area, or a safe and engaging play space for children, we possess the expertise to maximise the potential of the outdoor area.
Adopting Sustainability and Eco-friendly practices
We embrace eco-friendly approaches by utilizing native-friendly plants, employing efficient irrigation systems and employ techniques that conserve water and reduce maintenance needs for landscaping and gardening services.
Why Choose
Green Carpet for garden and landscaping services
Experience in delivering exceptional results.
Professional Team to provide top-notch service and craftsmanship.
Customer Satisfaction is our top priority.
Highest quality materials for the longevity and beauty of your garden.
We offer competitive pricing deals without compromising on the quality of our work.